---
General settings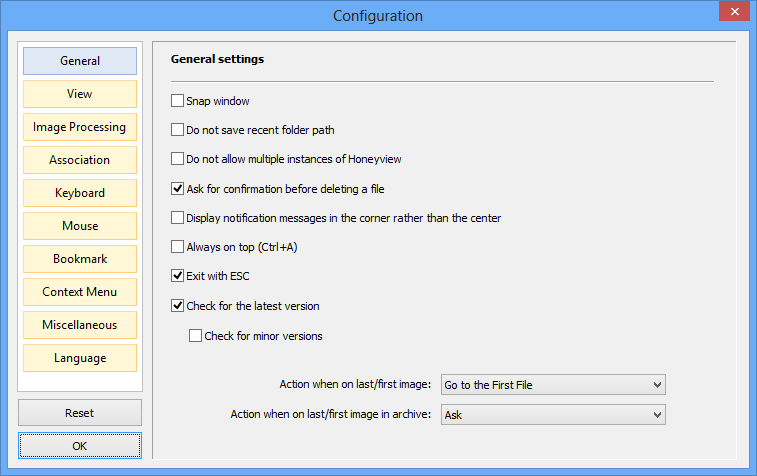 Snap windows
When the window is moved to one edge of the desktop, the window is attached to it (Magnet Function).
Do not save recent folder path
Decide if users want to open the recent folder or Photo folder when opening a file.
Do not allow multiple instances of Honeyview
When images are clicked in Windows Explorer, they open in 1 Honeyview window.
Ask for confirmation before deleting a file
When deleting a file, a confirmation dialog box pops up for confirmation.
Always on top
Tick this option to keep the window always on top.
Exit with ESC
Users can exit the program with the ESC key.
Check for the latest version
Users can opt out program update notifications.
Action when on last/first image
Users can select an action when the [Next] button is clicked when viewing the first/last image.
- Do nothing: the 'Last Image' notification.
- Ask: the 'Next/Previous Folder/File' menu pops up.
- Go to the First Image: the First image is displayed.
- Go to the Next/Previous Folder/File: An image of the next/previous folder is displayed when the last image of the file list is reached.